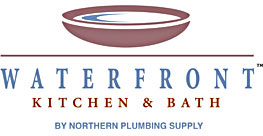 The Waterfront Kitchen & Bath showrooms of Northern Plumbing Supply have been created with attention to the latest trends in product and colors in the kitchen and bath industries.
Showing an ever changing selection of the newest items available, our showrooms are unique environments catering to the casual shopper browsing for ideas or the committed customer looking for a sense of direction for their building or remodeling project.
Our showroom staff is committed to providing the best possible service from product selection through the installation process with the full involvement of our network of licensed professional plumbing contractor customers.
Monday - Friday, 8am - 5pm
701-775-5021 (local)
800-726-8616 (toll-free)
701-775-5028 (fax)
Visit Showroom - Driving Directions
Monday - Friday, 8am - 4:30pm
701-365-8011 (local)
866-726-8616 (toll-free)
701-297-7824 (fax)
Visit Showroom - Driving Directions